Contents
I'm an avid crafter with many interests but my main passion is cross-stitching. I've been stitching since I was about 16. I started with basic kits but have since branched out into large scale tapestry type projects. I find it a very relaxing and a de-stressing past time and enjoy creating something beautiful that will last a lifetime.
This blog is intended to help people at all levels of the craft and hopefully dispel some of those cross-stitching granny stereotypes out there.
We have also developed a charting app to help people convert their own images into cross stitch charts allowing people to create their own one of a kind project.
Other Crafts
I've also launched another site for non-stitching crafts such as jewelry making. Check it out at Artisanal Panda
Collaborate, Support or Partner with me:
Contact: stitching@thread-bare.com
I look forward to connecting with other crafty people and would love to hear any comments, feedback or questions anyone may have.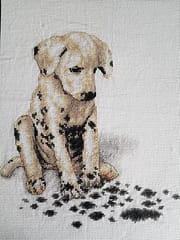 Never miss an article. Like and follow us on facebook Thread-Bare Stitching and Pinterest