New Online Cross-Stitch Chart Maker!
Convert photos to patterns quickly and easily
Contents
Introduction
If there was one single thing that probably has the biggest impact on the quality of your final completed piece, it has to be the chart that you work from. If you're buying a pre-made pattern then you should expect it to meet a certain level of quality. But what if you want a unique personal piece? You're never going to find a ready-made pattern for your own parent, child, grandchild or loved family pet.
This is where custom-chart making comes in and we're proud to announce our new online cross-stitch chart maker that will help you create great looking custom made cross-stitch patterns quickly and easily.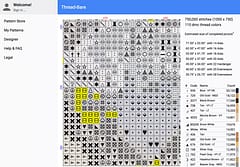 Why We Built It
You really have three options for making a custom pattern:
Pay someone to do it for you as a service.
Buy some installable software that does it.
Use an online-service when you need it.
While they are all good options to consider, we feel that an online, web-based service makes most sense for the following reasons …
Any Device, No Download or Install
Once upon a time, when you wanted some software, you had to drive to the computer store and buy it in a box. Then the internet arrived and we got to download software instead. Unfortunately there are downsides even to this:
Risk of malware and viruses
Risk of system corruption
Need to manage licenses
Need to maintain versions and upgrade
Operating system compatibility
There are many reasons why apps that work immediately via your browser are so popular which is why we've built our tool to work this way:
Instantly available, zero commitment
Nothing to download, install or maintain
Always up-to-date, no licenses to keep
Works on all devices with a browser
Many people no longer even own desktop devices or laptops - your only computing device may be your phone or tablet, so making software that isn't shackled to Windows is important. Because it's web-based you immediately get access to new features and improvements as we add them.
Try Before You Buy
You get to create the pattern first and see exactly what it will look like and only purchase if you are completely happy with the results. Pattern making is an iterative process and you often need to adjust the settings based on the results you see. If you're sending off a photo for someone to generate a pattern for you, will you be able to ask them to change it again … and again … and again - as many times as you need?
Lower Price-Point
If you are selling someone a tool to create endless patterns forever more, then you are going to factor that into the price. But unless you are going into the chart-making business and depending on the size you work on and the speed you work at you likely only need a new pattern every few years. Does it make sense to pay in-advance for all your patterns or just purchase them (at a much lower price) as you need them? Will the purchased software keep working in future and will upgrades be free forever more?
If you pay someone else to produce a chart for you then you indirectly have to pay for the software that they have purchased and also for their time as well which is why it can be an expensive option (and you lose the ability to see-before-you-buy).
Speed and Quality
Browser vendors are in a constant arms-race to improve their browser so that their system is the best for accessing the internet. We get to take advantage of their investment by using the features provided in modern browsers to create a system that is fast and produces high-quality results.
Viewer and Progress Tracker
Why stop at generating the pattern? If you work of printed charts then being able to download a Pdf might be great - but then you need to print it (do you own a printer?) or take it somewhere to do it for you (more expense and sometimes issues around rights to print images).
We do provide PDF downloads of purchased patterns (in multiple print sizes at no extra charge) and we've seen that people use various PDF viewers on phones and tablets to view patterns and mark off stitches but they often seemed to be a slightly cumbersome (not what the apps were designed for). We've developed our pattern viewer so that it can be used on your mobile device to view your chart and more:
Highlight thread color to work on
Clear, unambiguous symbols
Mark off completed stitches with a tap
Progress is saved to the cloud
View estimated completion date
Here's a video showing the viewer and stitches being marked off:
Data Security
We've seen horror stories of people working on patterns for years and then losing them before they have completed a piece because their device is lost or becomes corrupted and they are charged to re-download them. While you should always keep a backup of important files, we do our best to store your purchases and keep them available for you anytime. Although you don't need to sign-in to use our system, we recommend you do if you purchase something so that you can access your patterns in future and from other devices.
Payment Security
Handling payment information and doing it securely can be difficult and expensive, which is why we don't handle it! We use a payment processing company called Stripe to handle it all for us which means we're offering the best security possible - your payment details never even touch our server, they go directly to the payment company instead. Checkout their list of impressive customers such as Facebook, Pinterest, Shopify and Lyft - you may have used them already without even realizing it.
Try It Out
The app is available to try at https://my.thread-bare.com/. Be sure to checkout the Help & FAQ which may answer some questions but please let us know if you have any questions or issues and if there's anything you particularly like, dislike or would like to see. We've setup a Thread Bare Stitching facebook group for discussion and support.
If you want to see what the generated PDF patterns look like, we've previously released some free cross-stitch charts for Canada 150 and US independence day, all created using the app - checkout the download links at the bottom of those pages. The patterns in the app can be previewed too but are limited to a single page of the pattern and have alternate 10x10 blocks of stitching blanked out.
Our previous articles on cross-stitch chart design include some tips on how to get good results (for patterns in general) and video walkthroughs explaining how to use the techniques with our tool:
Check them out and let us know if there's something you'd like us to cover in future.
Future Plans
We will do our best to respond to feedback but already have things we know we want to improve. First of all is device compatibility - the app works best in Chrome which we've focused on most during development and testing but should work in Safari, Firefox and Opera as well and we'll aim to make it work with Edge and improve any quirks we come across in the other browsers as well as improve overall performance.
Social Sharing. Wouldn't it be cool if you could show off your piece as you work on it? The system generates an animated gif of your progress if you're using the progress tracker and we think it would be cool to let you show them off.
Pattern Sharing and Resale. If you've created a great looking pattern then maybe you'd like to share it so other people can stitch it too? We think it should be possible to give you a discount off future patterns or some part of the sale and this could be expanded to allow you to setup your own pattern store.
Rewards and Discounts. We've tried to make our prices competitive and they are currently fixed at $9.99 USD which gives you both the PDF pattern and access to the online viewer and progress-tracker. It's possible we might refine this and, because it would be neat to see photos of completed pieces next to patterns, introduce a discount for when you want to create the next pattern to work on.
As always, please like our videos and follow our us on our Thread-Bare Stitching Facebook Page or Thread-Bare Stitching Pinterest Channel for news and future articles.