Skein or Spool - Anchor Floss Now Available in Big Box Stores
Anchor floss now more readily available
Contents
Introduction
Over time DMC seem to have captured the majority of the market in embroidery thread (at least in North America) as it was readily available at local big box stores. Typically 6 strand embroidery floss by Anchor was mostly only available in smaller specialty needlework stores or more recently online but now they have branched out into big-box craft stores such as Michaels and JoAnn's. Also, to add a new twist, Anchor is now selling their floss on a spool rather than the traditional skein.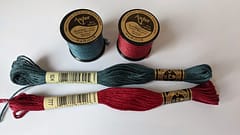 Anchor Stranded Cotton is a 6 strand extra-long staple 100% Egyptian cotton embroidery thread. It is double mercerised resulting in a brilliant lustre, unique softness and an intense light reflection. (Anchor website). Available in an 444 solid shades (with a further 24 multicolour and 16 ombre shades too)
The display is really nice - I think the spools distinguish the brand from the DMC which it is placed next to within the store, otherwise just more skeins could be confused as one large display, and it shows their threads off well. It may also help to prevent threads being mixed up by customers who pick one up and then put it back in the wrong bin. We're all careful not to do that, right? RIGHT?!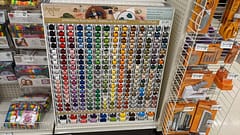 Large spool limited to 20 colors length 30 meters (32.8 yards) - $2.99 CAD (0.09 per yard)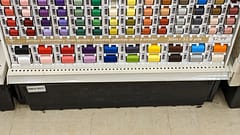 I only noticed the "bonus bug" in the photo while writing this blog!
Pricing
If you calculate the cost-per-yard then Anchor is slightly more expensive based on Canadian prices at Michaels
DMC skein is 8.7 yards and costs $0.79 CAD which works out to $0.09 per yard.
Anchor spool is 10.9 yards and costs $1.09 CAD works out to $0.10 per yard
However, looking at JoAnne's website the price in the US is the same between DMC and Anchor
DMC skein is 8.7 yards and costs $0.60 USD which works out to $0.07 per yard
Anchor spool is 10.9 yards and costs $0.75 USD works out to $0.07 per yard
Within the display there is also a handy DMC to Anchor conversion chart provided because most patterns tend to be in DMC colors. But notes, their range is 444 colors and DMC is now 482 so there is not the complete coverage.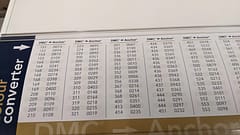 Pros
Pre-bobbinated - people either love or hate bobbins so this step is gone as they are already wound onto the spool and are ready to go!

Skeins stored on bobbins can develop kinks in them - using a spool will eliminate that

For 20 of the colors a larger spool is available (32 yards). DMC does sell cones but they are a massive 450 yards which is a crazy amount for most people and are more for people making up pattern kits who want to buy the thread wholesale.

Having an alternative manufacturer available encourages further development in the market, healthily competition and options and the larger shelf-space dedicated to cross-stitching can only be good for our craft.
Cons
Plastic spools - in a time where plastic is increasingly demonized and people aim to reduce their use, it seems like a step backwards and could be off-putting for some.

There is currently no official Anchor equivalent to the 01-35 colors that DMC released late in 2017.

Bulkier to store - with DMC you can store in plastic bags which will pack into a smaller space, but with a spool this is not possible so if you end up with a larger collection it will take up a lot more storage space and make stitching while travelling more challenging.
How to they stitch up
We previously reviewed Anchor floss and did a comparison to 4 other popular threads.
The two colors I picked to compare were very close and just seemed to differ slightly in saturation. The kind of difference that you could see within a single vendor due to dye lots.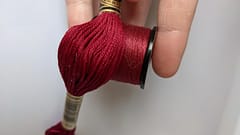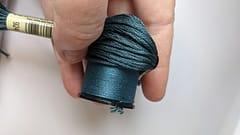 I think these are a great addition to see available in stores. It is especially encouraging to see the big-box craft stores like Michaels and JoAnns expanding the cross-stitching lines that they carry as at one point a lot of them seemed to be cutting back on carrying cross-stitching & embroidery items.
The Socials :)
Be sure to like and follow us on our Thread-Bare Stitching Facebook Page and check out our links page for a full list of all of our social media channels and services Thread-Bare Links