How to Read a Thread Color Card
There is a lot more information than you may realise on the DMC real thread color cards
Contents
Introduction
There is a lot more information than you may realize on the thread cards, it's not just a list of pretty colors. Here we will look at the thread color charts and highlight some of the uses and how to make use of these cards.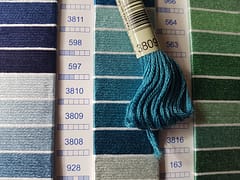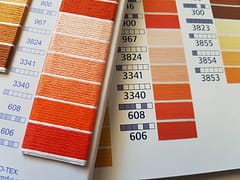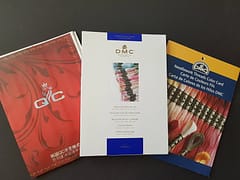 Reasons to use a color chart
If you run out of a thread you can use it to find the closest color match rather than buying a new skein to substitute
If you run of of a thread from a kit of another brand you can match to DMC which is available in stores unlike a lot of kit brands
Information of availability of shades in various thread types
If you design from scratch and are choosing colors for your design (not image to chart conversion)
If you just want to admire the colors and stroke it because it's pretty !! :D
Printed or Real Thread Card
Color cards are available in printed form or made with real samples of the threads.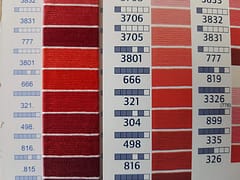 I think the real thread cards are far superior and give a much more accurate sample of the color - if you look at color 3801 in the photo above, the colors are noticeably different, the printed one seems a lot pinker. Also with the printed version you don't get the sense of the richness and sheen of the threads. A lot of the red colors especially look almost exactly the same - part of the challenge of reproducing colors accurately in print form, cheaply.
Weighing up the cost of the card $9.99 for printed vs $24.99 DMC for the real thread version, I would suggest it is much better to spend the extra and have the actual real thread version which gives a true representation of the thread colors - they are the real threads!
I think the cards are much more of a useful investment if you are actively designing your own charts. If you tend to just stitch kits or smaller projects I would suggest just using an online version of the card - you really don't need one. However, digital pictures are not as good as real thread sample as various monitors calibrate differently which can make colors looks very different to the true colors.
We have created a tool that allows you to look up the closest color match to a DMC color - the engine behind this tool uses our charting software so it is very accurate and provides a number of results so you can pick the one that best suits your needs.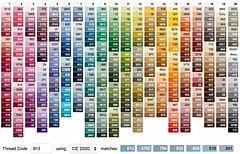 Reading the Card
Color Families
The first thing that jumps out at you on the card is that the threads are not organised in numerical order, they are roughly organised by color shades.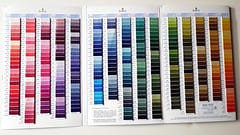 You can easily look up a particular DMC number on the number listing page which will show you which column of the chart that thread appears in.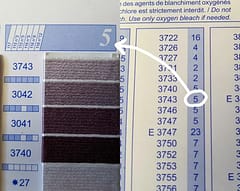 Line of threads
DMC has a number of different thread types available that are sampled on the color card. Each line of threads that are available has their own Article number (ART) associated.
Art 117 - 6 Strand Embroidery Floss
Art 317W - Light effects embroidery floss
Art 417 F - Color variations floss
Art 115 - Pearl Cotton No 3 & No 5 weight
Art 116 - Pearl Cotton No 5, No 8 & No 12 weight
Art 315 - Metallic Pearl No 5 weight
Pictures of each of these types of thread are at the end of the article
Thread Weight
Thread weight is the thickness of a particular thread. The higher the weight number the thinner the thread. The Pearl Cotton line comes in a number of weights. The skeins of Pearl Cotton are available in 3 & 5 weights and the balls are available in 5, 8 & 12 weights - these are much more delicate and can be used in crafts such a tatting.
Not all colors are available in every type of thread so you can use the chart to see if a particular type of thread (Art listing) is available in the color you want. Next to each color there are 6 blocks, some will be shaded others not. Each block corresponds to a type of thread listed at the top of the column using the Art numbers. If the block is shaded that type of thread is available in that color.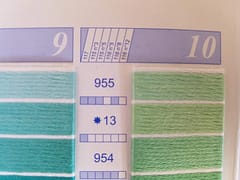 Additional Information
Colors with a dot next to the number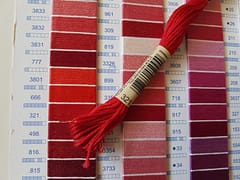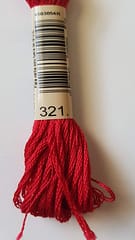 Changes to European laws meant DMC had to change their dyes affecting a number of thread colors mostly reds. The threads that have been affected and were changed now have a dot next to the number. If you have a skein of the same color such as 321 that doesn't have the dot it will be a slightly different color to the new one with the dot so you should ensure you do not mix these within a design
As DMC is imported thread it follows European laws about dyes so you will find these in the US and Canada also.
Colors with two numbers
There are a few colors that have two numbers on the chart, the main number and a smaller one in brackets beneath. These are colors that the number in the brackets where discontinued and replaced with a slightly different color as a replacement, again it would be better not to mix these as they maybe slightly different.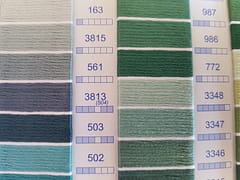 Note that DMC count the numbers, not the colors - the 5 colors with two numbers assigned is why there are only 482 colors but DMC advertize the range as being 489.
Star next to number
Late in 2017 DMC released 35 new colors, these colors were very useful for filling in gaps in the palette - on the chart these are shown with a fat star next to them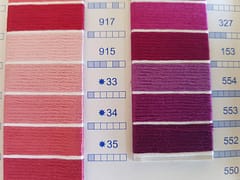 Undyed raw threads
For each Article of thread there is a sample of the raw undyed thread.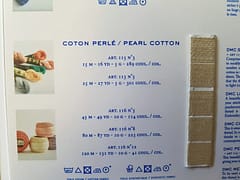 Washing guidelines for each type of thread
This is an important piece of information as the different thread types have very different temperature tolerances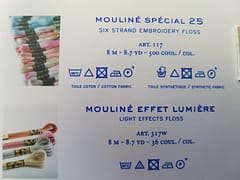 There are also a few threads that have additional washing requirements. This is very easy to overlook as they are marked on the numerical listing page with a very small star - for these threads you should only use oxygen bleach not clorine bleach.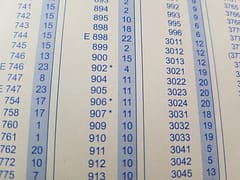 CXC Card
CXC also do a card, this is good for comparing colors to DMC, however there is no additional information on the card, it is just a color listing.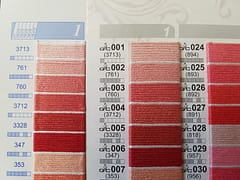 Types of Threads
6 Strand Embroidery Floss (Mouline Special) - Art 117
This is the standard embroidery / cross-stitching floss that most people are familiar with and has the biggest range of colors available.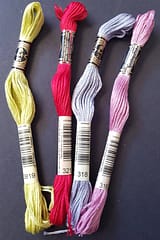 Mouline Light Effects - Art 317W
These are the metallic range of threads that are the same as the regular Art 117 floss but has a sparkly metallic finish, again used for cross-stitching and embroidery.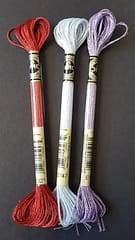 Mouline Color Variations - Art 417F
Color variations is a line of variegated threads used in cross-stitch and embroidery. There are a lot more colors available now than are listed on the current color card.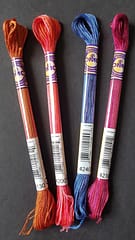 Pearl Cotton - Art 115 & 116
Pearl cotton can be used for various types of needlework cross stitch, embroidery, crewel embroidery, needle and shuttle tatting. Art 115 is sold on a skien and Art 116 is sold as a ball - each of these types are available in different weights.
Art 115 - No 5 weight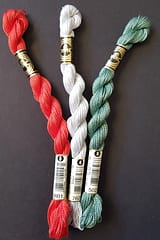 Art 116 Pearl Cotton - No 8 weight
Pearl metallic - Art 315
This is similar to the Art 115 range but is metallic - it is only available in gold and silver and is No 5 weighted.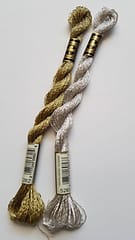 The color card is not essential, you can definitely pursue your stitching hobby without one, but there is a lot of useful information beyond just having a referenceable sample of all the thread colors available.
Be sure to like and follow us on our Thread-Bare Stitching Facebook Page or check out our links page for a full list of all of our social media channels and services Thread-Bare Links