Cross Stitching with a Silva Headlamp
Review of Silva Headlamp for use while cross-stitching
Contents
Introduction
The importance of good lighting while stitching cannot be over stated. Good lighting reduces eye strain and fatigue, helps identify colours and avoid mistakes keeping the dreaded frog away, allowing you to continue stitching for longer. Overhead lamps and Ottlites are not always practical depending on your stitching setup and can be intrusive for anyone else in the room that is not stitching so a headlamp is a great option for adjustable lighting pointing exactly where you need it, without other people feeling like they are being interrogated if they happen to be sitting close by. Ignore the funny looks your family give you while you are sitting in the living room wearing a camping headlamp, it is worth it! You can never have too many headlamps so here we will reviewing the Silva Explore 4RC headlamp.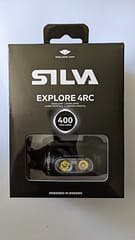 Features of the Silva Explore 4RC Headlamp
Lightweight 2.6oz
USB rechargeable
Clip can be attached to clothing or stitching frame
Battery indicator light
3 brightness levels
Waterproof - 30 minutes 1 meter
Storage bag
Up to 20 hours of battery life
$94.95 CAD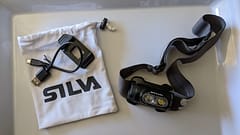 One of the things I liked with this headlamp was how easy it was to adjust brightness with a simple button click to cycle through the brightness settings and then just a long press to switch off - some other lamps I've used were kind of fiddly to adjust and turn on and off.
The headlamp has three brightness settings each of which obviously affects the battery life
Maximum - 400 lumen - 2.0 hours
Medium - 200 lumen - 2.5 hours
Minimum - 10 lumen - 20 hours
10 Lumen setting is low-level light and works great for close work or reading. I found it was more than enough to stitch with so this headlamp is a really good option for stitchers with the long battery life that comes with this setting.
This is the stitching under the lowest setting of 10 Luman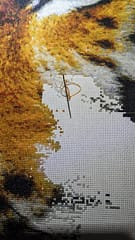 When the headlamp is turned off, a small LED is turned on inside the front of the headlamp to indicate the status of the battery for a few seconds.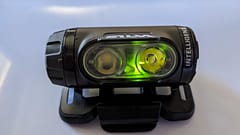 Green light - Battery in good condition
Red light – Battery needs charging
The head strap is nice and wide and comfortable to wear even for long periods. The light base itself swivels up and down so you can adjust exactly where the light is pointing as you stitch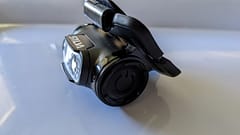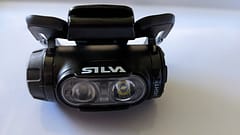 The headlamp is very light-weight so even if you are wearing it for an extended period of time while stitching it doesn't cause neck strain and it doesn't feel heavy.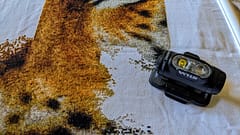 Another way that I tried wearing this headlamp was just hanging around my neck, with the ability to direct the light this worked very well and reduced the feeling of my head feeling constricted after wearing a strap around my head for a longer period of time, especially during a period of hot weather.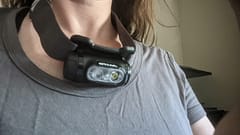 The Silva headlamp also comes with a clip that you can use to attach the light to clothing or your stitching fabric. Overall there many options to use this headlamp depending on your stitching setup.
And of course one big benefit is that it's also a great headlamp for what it's really designed for! If you are camping, or just need to clean-up after an evening round the firepit, it lights up your way and keeps your hands free to work.
What do you use to stitch? Have you tried a headlamp yet? Let us know what you think of the approach.
Be sure to like and follow us on our Thread-Bare Stitching Facebook Page and check out our links page for a full list of all of our social media channels and services Thread-Bare Links