Examples of Coverage Across Different Thread Counts
Choosing the right number of strands for your material
Contents
Introduction
As I described in my previous article on supplies, after you have chosen the fabric you will use for your project you need to decide how many strands of floss you will use to stitch. Let's look at some examples…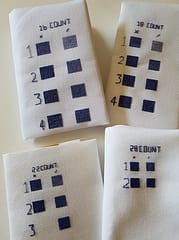 The number of floss strands used will affect your coverage of the fabric. If you don't use enough some of the white of the fabric can show through, if you use too many your stitches are less defined and bulky, also the fabric can become distorted and make stitching difficult.
There are no exact rules to this, and a lot of this personal preference.
See below for examples of stitches using different numbers of stands of floss across various fabrics - examples show full cross stitch and tent stitch (half cross) in blocks of 10 x 10 stitches using DMC 792.
11 Count Aida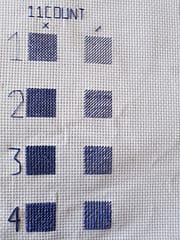 14 Count Aida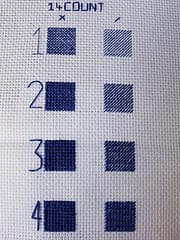 16 Count Aida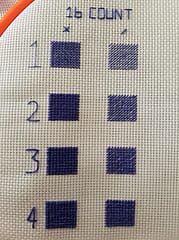 18 Count Aida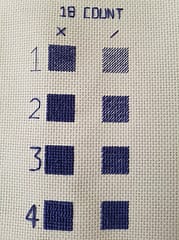 20 Count Aida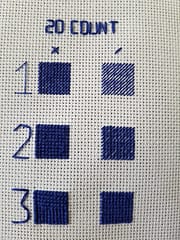 22 Count Hardanger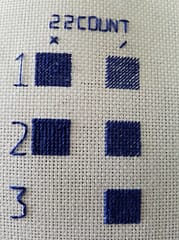 25 Count Magic Guide over 1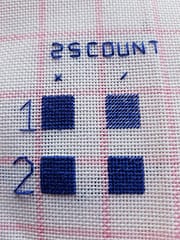 25 Count Magic Guide, over 2 - this effectively makes your fabric 12.50 count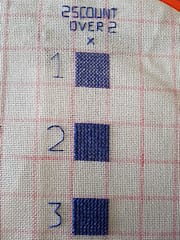 28 Count Evenweave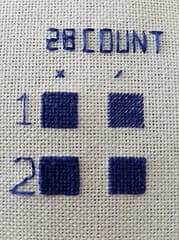 As you can see from the above pictures the more strands used on the higher counts the bulkier the stitches become and they don't look as neat, it is also much harder to actually stitch and push the needle through. Full cross on 22 count with three threads was just impossible to stitch. Also with fewer strands on the lower count fabric you can clearly see the white of the fabric showing through.
Never miss an article. Like and follow us on Facebook ThreadBareStitching and Pinterest