Rose Now Offering 01-35 colors to complete the non DMC paleltte
Similar to CXC Including the 01-35 Threads from 2017
Contents
Introduction
DMC's extended 01-35 thread colors which were released in 2017 were a welcome addition to the range and filled in a number of gaps within their overall palette. Most designers quickly adopted the new 35 colors and added them to their palette for charting. However this change meant that anyone using CXC was kind of stuck unless they bought the DMC colors for any of the 1-35 numbers that were used within a chart or turned to the AMO brand. But good news - another company known as Rose trading as OneRoom are now offering the 1-35 colors which are an excellent compliment in texture and feel to CXC.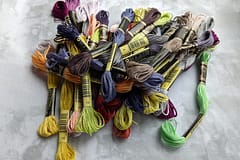 Although the use of CXC type threads can be controversial within some areas of the stitching community, CXC is a high quality thread particularly if you are looking for a less expensive option. The Rose brand has the exact same look and feel to CXC in fact when I first ordered these threads I thought they were CXC especially as the listing was worded in a way that it sounded like they were! I ordered these from Ali-Express and paid just $6.30 CAD for the set of 35 colors which works out to $0.18 per skein, compared to the typical price of $0.79 per DMC skein from Michaels. They took about 4 weeks to be delivered.
How Do They Compare?
There was only one of the colors where I could see a very slight visual difference, and that was number 29. The Rose version seemed a little darker than the DMC one when you look at it very closely. All the others were pretty much indistinguishable and well within the typical range of differences you would see using DMC batches. Even 29 is close enough that as long as you don't mix DMC and Rose brand of that color within the same area of your stitching you would not notice the difference. If you are ever going to be stitching a solid area of color you should consider purchasing all the threads from the same dye-lot anyway, regardless of manufacturer.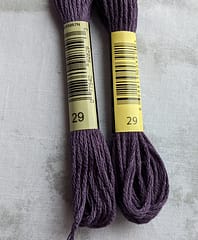 01 - 09 Gray Tones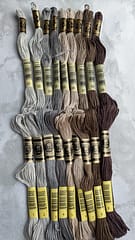 10 - 18 Greens & Yellows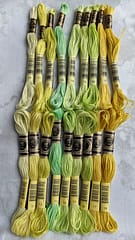 19 - 22 Orange & Reds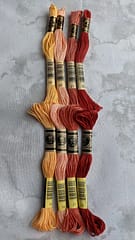 23 - 27 Light Pinks & Light Purples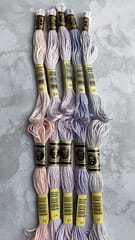 28 - 35 Dark Purples and Dark Pinks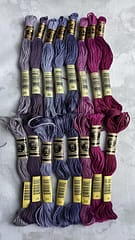 Selection of close ups DMC left, CXC right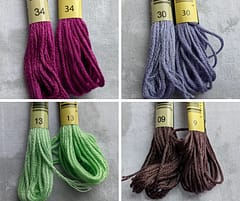 As you can see, they are a near identical match to the DMC versions and these are a great addition to compliment the CXC range and will make a lot of CXC fans very happy to have another option which is slightly cheaper than AMO.
Tips For Stitching with CXC
Although the CXC range is very close, almost identical, to DMC it is a good idea not to mix DMC and CXC within the same area of your stitching.
Unlike DMC do not pull the dangling thread from the bottom of the large label with CXC, you will need to dig into the centre to find the other buried end of the thread - this will allow you to pull a length from the skein without tangling and bunching.
Related Articles
For more in-depth coverage of CXC thread, checkout our other articles:
AMO brand comparison to DMC on 1-35 range
5 Cross Stitch Floss Brands Compared
Are There Problems With the 01-35 DMC Thread Colors?
The Socials :)
Be sure to like and follow us on our Thread-Bare Stitching Facebook Page or check out our links page for a full list of all of our social media channels and services Thread-Bare Links