A Touch of Sparkle
Metallics add a nice touch of sparkle to your projects but they can be tricky to use.
Contents
Introduction
Christmas is nearly here so it may be time to add a touch of sparkle to your projects with some metallic or satin floss. These threads can be tricky and frustrating to stitch with so we'll cover some tips for stitching without resorting to hurling your project across the room.
There are a few options for adding some sparkle to your projects available from numerous manufacturers, although we're going concentrate on the options available from DMC for this post. We'll review them and also show how their finish compares to regular floss and then rank each option in order of ease of use and cost.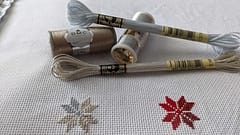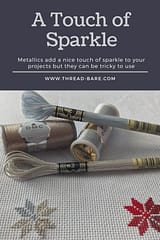 DMC Specialty Floss Options
Light / Jewel Effects
Diamant
Diamant Grande
Mouliné Étoile
Satin Floss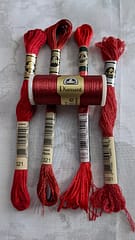 General Tips for Stitching with Metallic Thread
Only pull the thread through one hole at a time, if you thread through two holes (down and back up) before pulling your thread all the way through this adds friction and the threads will fray quicker.
Keep the tail of your thread that is pulled through the needle short, if you're pulling the thread through the eye a lot it will fray quickly
Use a larger needle than normal to prevent the eye from fraying the thread as much
Use shorter lengths than you normally would as these threads tend to tangle and fray very easily, they naturally want to bunch up and twist unlike regular floss - keep your length at about 12 inches max.
As you stitch let the needle hang every so often to unwind and reduce tangling and knotting
When starting using the anchoring method leave a slightly longer tail than normal as these type of threads slip easily
Use the loop start method to start rather than anchoring your thread to avoid slippage
When using satin floss moisten the floss before threading the needle
Which is "Best"
There are a few considerations when deciding which type of thread to use:
Ease of stitching, especially if it is over a larger area some types are trickier to work with than others. How much sparkle do you want in your piece, some options are subtler than others. Cost, metallic thread is more expensive than regular floss and within the various options the cost ranges again.
In general I find that you should expect more waste when using metallic threads, this true with every sort except the Mouliné Étoile floss which were comparable to regular floss in this way.
Diamant & Diamant Grande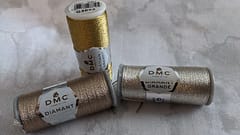 The Diamant range comes in two ply's. Ply is the number of threads that make up a single strand. Diamant is a 3 ply thread that is equivalent to 2 strands of regular floss, and the recently released Diamant Grande is a 6 ply thread that is equivalent to 4 strands of regular floss.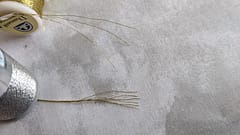 3 ply vs 6 ply
Diamant (French for diamond) metallic thread options are both a non-divisible thread. They are braided rather than twisted strands. These threads feel smooth compared to other metallic threads such as DMC light effects. With them being a single strand it tends to hold it's braid more as you stitch unlike other metallic thread that gradually unravels and bunches up. You still should use shorter lengths though when stitching with this thread because it will gradually start to deteriorate as you are using it, pulling back and forth through the fabric but it doesn't seem to do this a quickly as other types of metallic thread.
The coverage for diamant is a little thin due to the braid so using it on a lower count thread will allow fabric to show through but I would say that I found this one the easiest to stitch with. The diamant grande gives a much thicker coverage but became a little bulky on 18 count and is probably better suited to 14 count. Diamant gave good coverage on 18 count, which is what the samples below are stitched on.

Diamant on the left, Diamant Grande on right
I did find it tricky to get the spool started and find the ends when I first came to use them. The thread will be tucked into the split in the spool under the sticker on the end with the gold label. These ends can be a pain to get out of the split - I had to prise open split a couple of times to get the thread out. Once I managed to stab myself and another I managed to shred the end of the thread trying to pull it out of the split!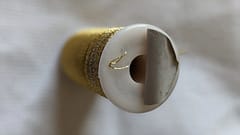 I found the diamant thread very nice to stitch with. I normally hate working with metallic thread but this was ok, it is very smooth and doesn't tangle too much. Dimanat Grande was a little more intense but it does provide better coverage with it being a thicker thread. Overall I would say that these threads are a much better option than the light effects for ease of stitching, although they do not have the range of colors that are available with light effects. Diamant Grande is only available in 6 colors vs Diamant in 14 colors as the time of writing.
Lights Effects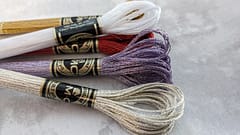 Light effects are a six stranded divisible thread. The strands are twisted but they do easily separate. These are available in a lot of really bright vivid colors but they are difficult to work with. They unravel and split a lot as you work with them and fray very easily in the eye of the needle as well as when you are pulling the thread through the fabric.
They give a really nice effect though so are a good option if you have the patience to work with them.
Mouliné Étoile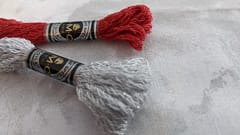 These are very nice to handle and are not very different to using regular floss, I didn't experience any more knotting and tangling than usual. The strands separated very easily and didn't bunch up.
They feel very soft and almost fluffy when handling them but once stitched the stitches lie nice and flat. The sparkle is much more subtle and delicate than other metallic options.
Satin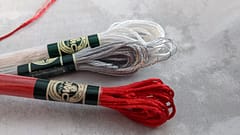 Satin floss will give you a shiny rather than sparkly finish. It's a great option if you want more of a sheen to your work. I think these are a great option for embroidery rather than cross stitch. It is harder to use though as it splits and separates very easily. Moistening the strand before threading the needle with help. They easily slip out of the needle
Cost Comparison
It is not immediately apparent which is best value when comparing the prices of the different options as some are packaged in meter lengths and others in yards. Also some are in divisible lengths that can be separated and others are not. Here is a quick & rough cost comparison between the types - I included regular none metallic thread also for comparison.
| Type | Cost CAN | Yards | Total Strands | Total Length | Typical Stitching Strands | Stitched Length | Cost per Yard |
| --- | --- | --- | --- | --- | --- | --- | --- |
| Regular Floss | $0.79 | 8 | 6 | 48.0 | 2 | 24.0 | $0.03 |
| Light Effects | $3.99 | 8 | 6 | 48.0 | 2 | 24.0 | $0.17 |
| Mouliné Étoile | $2.99 | 8 | 6 | 48.0 | 2 | 24.0 | $0.12 |
| Satin | $1.89 | 8 | 6 | 48.0 | 2 | 24.0 | $0.08 |
| Diamant | $4.99 | 49.2 | 1 | 49.2 | 1 | 49.2 | $0.10 |
| Diamant Grande | $6.49 | 21.8 | 1 | 21.8 | 1 | 21.8 | $0.30 |
The diamant threads are sold by the spool in 20 & 45 meter lengths, so for simplicity I converted these to yards for the calculation. All prices are in Canadian
Stitched length - takes the total length and divides by the typical number of strands that you would stitch with.
Cost per yard is the price per stitchable yard, cost divided by the stitched length.
Sparkle Factor
I think light effects and diamant grande are comparable for the sparkly effect - I think this is likely due to them being thicker threads and giving good coverage. Satin is a shiny effect rather than sparkly. Mouliné Étoile is much more subtle but adds a nice effect to stitching plus there are very nice to stitch with.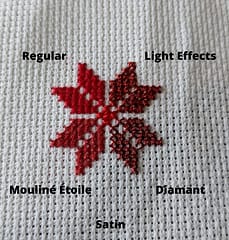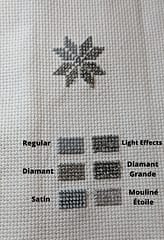 Ranking
This is how I would rank the options for how easy they are to stitch with, with 1 being the easiest:
Mouliné Étoile
Diamant
Diamant Grande
Satin
Light Effects
Light effects and satin are very close for me and it was hard to decide which was easier than the other to use. The satin slips around alot and is hard to thread the needle, but the light effect tangles and frays alot - I found them equally frustrating !
Quick Reference Chart
| Type | Range of Colors | Divisable | Total Strands | Colorfast | Iron | Sparkle Factor | Ease of Use | Material |
| --- | --- | --- | --- | --- | --- | --- | --- | --- |
| Regular Solid | 486 | Yes | 6 | Yes | Yes | None | Easy | Cotton |
| Light Effects | 36 | Yes | 6 | Yes | Yes | High | Hard | Polyester Viscose |
| Mouliné Étoile | 35 | Yes | 6 | Yes | Yes | Low | Easy | Cotton Lurex Polyamide |
| Satin | 60 | Yes | 6 | Yes | Yes | Shiny | Hard | Raylon |
| Diamant | 14 | No | 1 | Yes | Yes | Medium | Medium | Polyester Viscose |
| Diamant Grande | 6 | No | 1 | Yes | Yes | High | Medium | Polyester Viscose |
All of these options seemed to stand up to being ironed, although it is always best to use a low heat setting, iron on the reverse side and put a cloth between the stitching and the iron rather than ironing directly on to the thread.
If you want to try out some metallic stitching DMC has some free Christmas patterns available on their website DMC Christmas Pattern
Be sure to like and follow us on our Thread-Bare Stitching Facebook Page or check out our links page for a full list of all of our social media channels and services Thread-Bare Links