Choosing The Right Cross-Stitching Hoop
Which hoop is right for you?
Contents
Why Use a Hoop
Hoops are used while stitching to hold the fabric taut. All hoops work in a similar way, there is in inner and outer ring that traps and holds the fabric between. The difference between the various types is how the tension is created and adjusted while holding the fabric.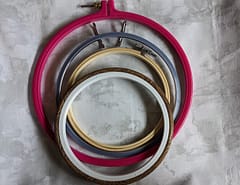 Using a hoop to hold the fabric allows for even tension and helps the project lay flat for neater and more consistant stitching. If stitching on Aida fabric the tension in the fabric allows you to see the holes easier.
Hoops can also be used as a frame for a finished piece or an ornament.
One drawback to using a hoop is that can flatten stitches and leave hoop marks, although these will wash and iron out. Hoops work well for smaller projects. For bigger full coverage projects a snap frame is a better option, although not technically a hoop it works in a similar way.
Types of Hoops
There are lots of varieties of hoops in many shapes and sizes available, here we will review and rate each type.
Flexi Hoop
Flexi hoops have the look of a wooden hoop, but have a flexible vinyl outer hoop that fits over the inner plastic hoop. These hoops are sturdy and hold tension in the fabric well. They are light and are relatively easy to fit to fabric although it can take a bit of tugging to get the tension you want. Michael's has recently start stocking Anchor branded flexi hoops in a variety of sizes and shapes, including oval which could make a nice frame for a finished piece. These are durable and long lasting.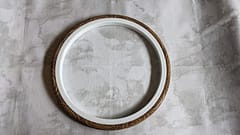 Wooden Screw Tension Hoop
Wooden hoops are lightweight and easy to use. However the quality can vary with price point and the type of wood. Higher quality ones will be smoother with rounded edges and will not splinter and snag the fabric whereas the cheaper craft store ones can have rougher edges. Cheaper versions can also be irregular shapes and sizes meaning the inner and outer hoop don't line up nicely which decreases the effectiveness of holding the tension in the fabric. Overall I find wooden hoops less effective to maintain the tension while handling and I find I have to often re-adjust and tighten the fabric. They are a good cheap option for starting out with though and are readily available in crafts store or to buy in bulk, they are also a great option if you want to frame a piece in a hoop to finish.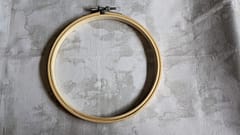 Plastic Screw Tension Hoop
These long lasting durable hoops are available at most craft stores. Many plastic hoops have a raised ridge on the inner hoop which helps to stop the fabric from slipping and moving around which helps to maintain the tension while being handled. These are very easy to fit to the fabric and get good tension by tightening the screw on the outer ring. Although some people maybe not like these due to environmental reasons they are much longer lasting than other types and so I feel this offsets the impact as you are not constantly having to replace them.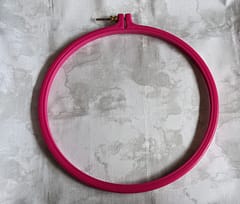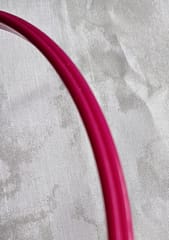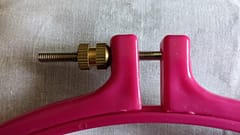 Spring Tension Embroidery Hoop
These hoops have an inner metal ring which slots into outer ring, trapping the fabric between. These hoops are heavier and more cumbersome to use due to the larger handles which can also get in the way while stitching. I find these very tricky to attach to the fabric and they easily pop off while you are stitching and handling your work. Overall I feel there are much better hoop options out there. These hoops also tend to be slightly more expensive.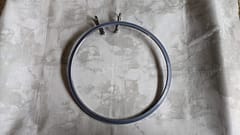 Snap Frame
Although not technically a hoop, snap frames work in a very similar way. The advantage of these though is that they do not crush the stiches so much and do not leave lines on the fabric. You are able to mix and match sizes to fit your project size. These are my go to frames for my stiching. One tip for using these is to place a piece of scrap material between your fabric and the snap portion, this helps to remove the snap portion from the frame when you need to move your fabirc. Snap frames are slightly more expensive than a regular hoop but are definitely worth the additional investment.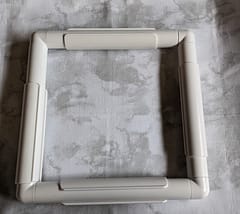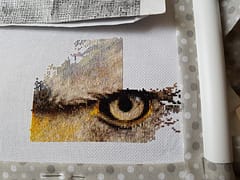 Summary
Here's a quick summary table of the benefits and drawbacks of each type of hoop:
| Type | Holds Tension | Durability | Easy to Fit | Cost |
| --- | --- | --- | --- | --- |
| Flexi Hoop | ✅ | ✅ | ✅ | ✅ |
| Wooden Hoop | ❌ | ❌ | ✅ | ✅ |
| Plastic Hoop | ✅ | ✅ | ✅ | ✅ |
| Spring Tension | ❌ | ✅ | ❌ | ❌ |
| Snap Frame | ✅ | ✅ | ✅ | ❌ |
Be sure to like and follow us on our Thread-Bare Stitching Facebook Page and check out our links page for a full list of all of our social media channels and services Thread-Bare Links