One Year Anniversary of Thread-Bare.com
Our first year in review
Contents
Introduction
We started thread-bare just over a year ago as a husband and wife combo team. It began as a collaboration because I'd developed some blogging software that I was using for my own technical / programming blog and my wife was a stitcher that wanted a project to work on beyond the stitching itself. She was the one that came up with the great name and our blog was born - it's been quite a journey since then!
The first few posts were intended as a helpful introduction to cross-stitching for anyone curious about trying it, explaining the history of it, some of the terms and what it was all about - all the things she thought would be useful for someone coming to the craft for the first time, wanting to try it but unsure of how to get started.
My wife decided she was going to do a more involved article about coverage of different strands of thread with different stitching styles and she posted it on a facebook group and things really took off. It's still one of the most viewed articles we've posted and yes, that's all it took for her brand new blog to overtake my decade-old tech blog in terms of traffic. Sigh. I guess my wife is the successful blogging expert of the family now! :)
Examples of coverage across different thread counts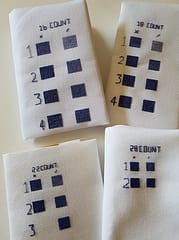 After a few more articles about stitching and techniques she decided she was going to purchase a cross-stitching app because she wanted to convert an image of our dog into a pattern and also maybe do some free charts to give away to promote the blog. At the same time, I'd just finished a software project and there was some new technology out that I wanted to try and learn so I was looking for a personal side-project to start and write about for my own blog.
So one day, I happened to watch her at the computer trying to use this software which seemed so slow, outdated and difficult to use and said "wow, I could write something better than that!". Her reaction of laughing and saying "no way" was of course the challenge I needed so I spent that weekend throwing together a prototype which is how our image-to-pattern conversion software was born.
It was of course pretty rough and lacking features but it showed that it could be done and the results were already comparable if not better than what we were getting from the commercial app. Most importantly, ours ran in a web browser so there would be no software to download and install which meant it could be used immediately by anyone on any platform. We looked at the pattern 'industry' and discovered it was a little behind the times and being held back by rather outdated approaches to the software and people charging expensive prices for custom "designer" services (although they don't really do any design, they just operate the software on someone else's behalf). We decided we could make use of newer cloud technology to offer something new and better at a more affordable price.
We were going into the chart making business!
Over the next few months, as we developed the software, we learnt more about the science behind various image processing algorithms and started sharing articles about them on our thread-bare blog for people who wanted to know a little more about what goes on behind the scenes when you convert an image into a custom chart. Often, if you know how a process works, it can help you use it better.
We also wanted to clear away some of the 'mystique' that there was around image-to-chart conversion because we noticed more and more a constant stream of mis-information being spread about how difficult custom image charting was which seemed to be perpetuated to justify the high prices being charged.
There has been some ups and downs since we started and we have met with some unpleasantness from certain quarters but mostly it's been a lot of fun and we have received many messages of support and encouragement from people who have followed our progress and used the system.
Our system has now been used to generate well over 1,000 patterns (possibly many more that people didn't chose to save) and we're starting to see people's stitched pieces based on them (plus the ones that my wife is working on). There are many examples showing the great results on our facebook page and group and we continue to get great feedback from people. It's really nice to see people recommending it to others as the solution to their custom charting needs.
Here is an example of a mock-up of one of our charts followed by the actual stitched project. As you can see - the mockup and the stitching are very close which is how it should be.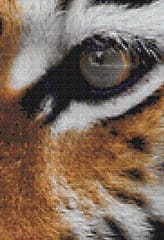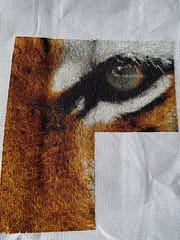 One thing that's been particularly moving is seeing people use our app to create patterns to commemorate important events as well as remember lost loved ones (both people and pets). We've been happy to contribute many chart conversions free of charge especially for those wanting to create a piece as a gift to someone who has lost a child.
We've continued to refine our software to further improve the results and have been happy to provide new print options to people at no extra charge. You can now have patterns in any combination of Small, Medium or Large print in color or black-and-white or optimised for diamond painting, all for the same single price.
As well as the articles we've written we started making some videos to explain how to use the software
Well, my wife has just looked over my shoulder as told me I'm talking about the software too much (can you tell I get excited about it?) so back to the blog …
As well as the how-to videos we thought it would be fun to try doing a live-stream event and answer any questions people had as best we could. Although it was pretty scary (I hate cameras!) this turned out to be a great success and it seemed to be really well received and we'll plan on doing another one soon.
We noticed that the same questions often came up time and again in facebook groups such as how to calculate fabric sizes and number of skeins needed so we tool some of the technology developed for the app & created handy free tools and utilities - nearest color, project estimator, fabric calculator
Stitching Tools and Calculators
Now have over 1000 likes and follows on facebook Thread-Bare
So what's still to come?
We are very close to launching our new pattern store with many ready made charts all neatly categorized to make them easier to browse. This change will allow us start to promoting the patterns we've created a lot more.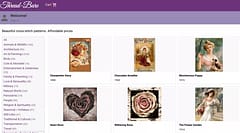 We also have plans for a re-usable store system (like Etsy but 100% for patterns and integrated with the designer), our goal for this system is to allow artists to have their own dedicated store providing cheaper charts for everyone along with more money going directly to artists.
From the start our plan and thoughts were that we don't want the blog or our facebook page/group to just be about our own software and charts so we've recently written our first feature of people who do real cross-stitch chart design (not just operators like us who do conversion with some image tweaking). We are planning to do more articles like this, if there is a designer that you would like to see featured send us a message and we'll take a look.
We're also working on a new improved designer with multiple layers, which will add the ability to use clipart, text and other drawing tools in your charts. Here is a sneak peek video of the text tool:
We also want to say thanks to everyone that has been supportive and encouraged us over the last year, especially many member of the Cross Stitch Unlimited face book group.
We've really enjoyed our first year and have lots of new (hopefully interesting!) articles planned plus more improvements to our app.
So stay tuned!