Tips For Stitching With Variegated & Metallic Floss
Adding an extra dimension to your cross stitch projects
Contents
Introduction
Specialty threads such as variegated and metallic floss can add a fun and interesting dimension to your projects but there are some things to keep in mind when using these types of floss to ensure success and avoid frustration!…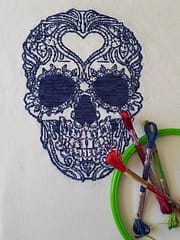 Variegated floss
Variegated floss is a continuous thread with colour changes along the length of the skein.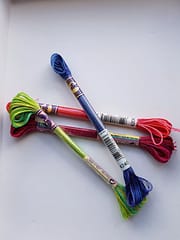 These threads are fun to use and will create unique looking design. Variegated floss tends to work best on geometric and abstract patterns and simple sampler type designs.
Simple sampler design using DMC Colour Variation floss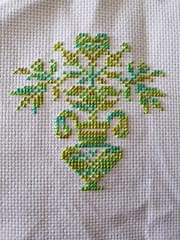 Depending on the design you are stitching it may be better to complete full crosses as you go (English style) rather than working in rows (Danish style) as due to the colour changes in the floss lines will naturally appear
If you are working on a sampler type of picture the colour changes will not matter so much and will add dimension and make the design more interesting, but if you are working on an actual subject item such as a tree or water you need to think about how lines occur naturally on these subjects, for example you would work in vertical columns when doing a tree, and horizontal when working on water or sky otherwise it will look odd when the colour changes of the floss create lines in the wrong direction to which they naturally occur
Some brands of variegated floss are not colourfast so are better used in smaller designs that won't need washing, however DMC Colour variations brand is colourfast . The sugar skull pictured below was washed after stitching and there were no issues with colourfastness.
If you have to unpick a stitch and replace it be aware of the shade of colour you need to replace the stitch with, a lot of variegated floss is quite subtle but there are some that have a very sharp contrast
Sugar Skull design stitched on 22 count hardanger using DMC 4240 colour variation floss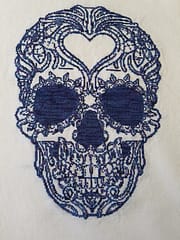 Metallic & Satin Floss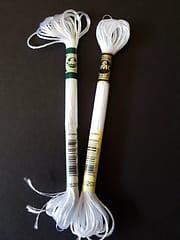 DMC produce a range of metallic threads called Light Effects and Satin threads
These threads add a nice touch of sparkle to designs but they can be tricky and frustrating to stitch with. Here are some tips to help when working with metallic and satin threads…
Use shorter lengths than you normally would as these threads tend to tangle and fray very easily, they naturally want to bunch up unlike regular floss

As you stitch let the needle hang every so often to unwind and reduce tangling and knotting

When starting using the anchoring method leave a slightly longer tail than normal as these type of threads slip easily

Use a larger needle than normal to prevent the eye from fraying the thread

Use the loop start method to start rather than anchoring your thread to avoid slippage

When using satin floss moisten the floss before threading the needle
Some people use a conditioning product to smooth the thread before stitching with it, I personally have not used this so cannot really recommend it either way but but I have also read that occasionally some brands of these products leave a residue on the thread that may become visible as the project ages so I would suggest researching the each particular product before you use it
If a design calls for metallic thread but you really cannot bear to work with it over an entire project you can usually substitute for regular floss. Here is an example of the various types of thread together, from left to right B5200 (regular floss), S5200 (satin floss) & E5200 (metallic floss). These are all the same colour but produce different effects after stitching.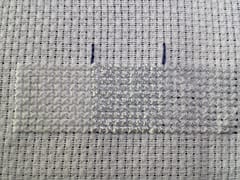 Never miss an article… Like us and follow us on Facebook ThreadBareStitching and Pinterest