New Cross Stitch Pattern Store!
Easier navigation and faster performance
Contents
Introduction
Let's start with a confession … the previous store was, well, it was bad. We initially focused on our image-to-chart conversion app for people wanting to do custom pattern conversion and only added a handful of pre-made patterns as an afterthought. As there were only a few of them it worked fine having a single page with them all on. Categories? Who needs categories when you can see all 8 patterns at once!
But as we added more and more patterns, the store part got slower and s-l-o-w-e-r and s…l…o…w…e…r. Frankly, it was a bit of an embarrassment so we didn't really promote it much even though we have some really great patterns in there and some kick-ass features such as the real mockup previews.
Now we've finally got round to doing a revamp to improve it. Check out our new cross-stitch pattern store and let us know what you think!
Performance
The first thing you should notice is the performance. Instead of waiting for the single page to load what has now grown to many hundreds of patterns, it now just loads the first couple of dozen and only loads more as you scroll down. We also use much newer technologies so that browsing round the site is slick and your device isn't downloading or re-downloading things it doesn't need to (think of it as mobile data friendly). We'll be adding more speedups in the coming weeks.
Pattern Categories
The patterns are now all categorized so it's easier to narrow down the view to see the specific type of image you're looking for (and we'll be adding additional search and filter options in future so you can limit things to artist, size and other features). If there's a category that you think is missing, let us know!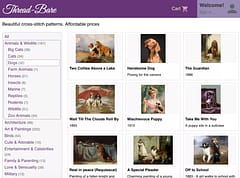 Pricing, Coupons and Discounts
We already had a coupon system so we could have occasional special offers but it only ever applied to the things already in the cart. Now, any coupon applied will be reflected in the prices while you browse the store so for incrementing-discount coupons you'll see the extra amounts you could save.
We also have the ability to set separate prices for each pattern so we can have a weekly special priced item or make some patterns available for free.
TrueView Mockups
We still have the same great TrueView mockups that show you exactly what the pattern is going to come out like when stitched. We've long advocated that showing the original image artwork is misleading and mis-selling but it's now better to use on mobile devices as well.
To show you why this is so important, compare the original artwork with what a stitched piece based on it might look like:
Original Source Image
The source image for the pattern is a high resolution photo so of course it should look amazing … but it isn't quite what you're going to get when stitched so we think it's misleading to show to sell the pattern: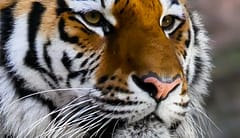 TrueView Pattern Mockup
We prefer to show you exactly what the pattern will produce, it will never look as good as the original image because the resolution has been lowered so it can be stitched and the colors reduced to those available in the DMC palette:

We think showing a realistic mockup of exactly what you'll get is more honest than showing a falsified preview that is a much higher resolution than the actual pattern and has many more colors than are available to stitch with.
Our TrueView mockups let you zoom right in to see exactly the level of detail and confetti in the pattern so you can decide whether it's the right pattern for you.
Pattern Sharing
If you like a pattern and want to get opinions on it you may share a link on facebook. Those links will now auto-embed the pattern mockup image and size details which should help to attract attention and feedback (feel free to share links to any patterns you like!). As we re-vamp out pattern viewer & progress tracker app we plan on adding similar capabilities to make it easier for people to share their completed progress as they stitch.
We're very excited to finally launch our new store and we hope you like it. It has just launched though so some of the paint is still wet which is programmer-speak for "there may be bugs" so if you have any issues or don't think something is working quite right, let us know and we'll get right on it.
Link to store: https://store.thread-bare.com
Until the end of June get 50% using coupon code: B35B-4DBD-CKT0
Be sure to like and follow us on our Thread-Bare Stitching Facebook Page or Thread-Bare Stitching Pinterest Channel for news and announcements.