Contents
Experiment
There are no predefined set of options that can be applied to every image that will always produce the perfect results. It's all about experimenting and adjusting things and trying different combinations - sometimes after adjusting the size, the colors can be reduced further or vice-versa.
Over time you will learn how the inputs affect the finished pattern design and having a pattern creation tool that provides an immediate feedback loop really helps with the process but whatever tool you use, I hope this has helped to explain what some of the options do and how they influence the pattern and ultimately, the piece you will hang on your wall.
You spend a long time making it so it's worth taking the time to get the pattern right first.
Free Pattern
If you like the car pattern featured in this article, we're making this higher resolution version available for free. It is 450W x 300H and in 96 DMC colors: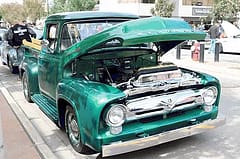 It's available in 3 print-size versions (all the same pattern but with different sized pattern-print):
All were created using the new thread-bare pattern making tool that we're working on and hope to make available online very soon. If you stitch it, we'd love if you sent us images of your completed work!
Video Walkthrough
We've made good progress with our pattern-making tool since this article was originally written and can now provide a video-walkthrough of some of the techniques described in this article:
Remember to follow our us on our Thread-Bare Stitching Facebook Page or Thread-Bare Stitching Pinterest Channel for news and announcements of availability of the pattern maker and other free charts.